New Dawn Distributing
I am pleased to be the Canadian distributor and to offer you these quality environmentally friendly products.  I personally use these products and guarantee their effectiveness and value.

My personal guarantee.
If you don't love my products I will give you your money back no questions asked.  Thank you for choosing New Dawn Distributing.
Enzymes Benefits and Uses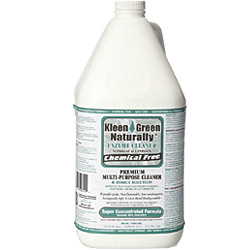 Kleen Green is a unique organic blend of enzymes specifically designed to assist in removing and eliminating dirt, germs and odours naturally!
Multi-Purpose Cleaner for Body and Home
Helps To Dissolve Dirt and Odors. Superior for Cleaning and Laundry! This revolutionary product is now available to the consumer. Pre-formed enzymes have been used widely in restaurant and institutional settings for the last ten years, due to their low toxicity and superior cleaning properties.
SAFE for Gardens, Plants, Ponds and around children and pets! Put an end to risky and unnecessary exposure to poisonous chemicals forever!
Uses, Benefits and Sales Opportunity.
Why use Enzymes?
Enzymes can be used to replace harsh conditions and harsh chemicals, thus saving energy and preventing pollution. They are also highly specific, which means fewer unwanted side-effects and by-products in the production process. Enzymes themselves are biodegradable so they are readily absorbed back into nature.
Kleen Green Dilution
Laundry: 1 to 2 oz. per load
All Purpose Cleaner: 1 oz. per gallon of water (One 32 oz. bottle can yield 16 – 32 qts. depending on dilution.)
Kleen Green Naturally Facts
Patent Pending Process Non-Toxic No Residual Non-Pathogenic
Harmless to humans, animals, marine life and ecology
Effective against environmental concerns
Non-Flammable – contains no combustible materials
Hypoallergenic – contains no known allergen to irritate the skin or respiratory system
Will not impair vision or cause rashes
Rinse-ability – washes off completely in water, does not leave streaks or bead stains. Once rinsed, the product leaves a non-magnetic, non-static finish inhibiting accumulation of dust or grime.
ENZYME CLEANER: Digests grease and other organic matter. Cleans and deodorises floors, walls, chrome and other surfaces not harmed by water. It can be used with pressurised, mechanical and manual systems, hand sprayers, mops and cloths. Water temperatures below 65 F will prolong the time required for optimal cleaning. Ideal temperature is 98 F.
This all-organic biodegradable cleaner penetrates and emulsifies all types of organic matter on all surfaces. An environmentally-friendly alternative to harsh cleaning chemicals, it is highly effective for cleaning all surfaces from tile, walls and floors, to carpets, rugs and upholstery. This unique and highly effective product is specifically designed to clean and biodegrade organic stains such as blood, vomit, urine, waste, food and other such difficult stains.